In accordance with the management plans for the Barents Sea and the Norwegian Sea, the MAREANO program has generated maps of predefined vulnerable and valuable bottom areas off western Finnmark, Troms, Nordland, Trøndelag and Møre and Romsdal counties (see figure below).
Standardized mapping methods have been developed and used within MAREANO, and results are continuously made available online as maps on www.mareano.no. These results are in turn forwarded to the Management Forum for Norwegian waters (in Norwegian: "Faglig forum"), and they were also reported to the Monitoring Group (in Norwegian: "Overvåkingsgruppen") in February 2013 (Fisken og havet, no. 1b). In addition, during 2012 and 2013 priority has been given to the ongoing work on updating the Management plan for the Norwegian Sea coordinated by the Directory of Nature Management.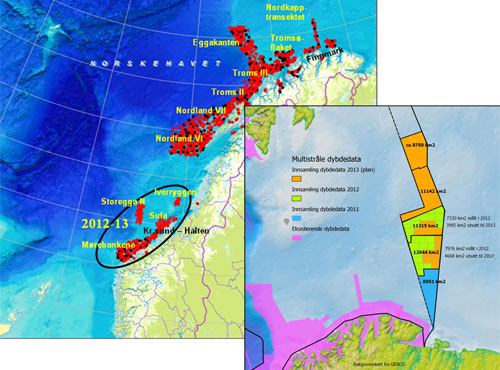 Areas mapped by the MAREANO program in the period 2006–2012 off the Norwegian coast and a previously disputed area in the Barents Sea. In the latter area the bathymetric surveys started in 2011, while biological, geological and chemical data collection will begin in 2013. Red dots show video stations (700 m long transects) while black dots show stations where data have been collected by use of physical sampling methods, including grab, sledge, beam trawl and multicorer. See the map MAREANO-stations for further station details.
Read more:
Bathymetriy
Since 2005 the MAREANO program has collected approx. 104 000 km2 of new multibeam depth data (see figure below). MAREANO has additionally used data from the Norwegian Army, the petroleum industry and Olex AS. Both new data collected within MAREANO and these external data are being used to create terrain models and shaded reliefs of the seabed. The results are continuously made available on the MAREANO web-sites and through "Norge digitalt" (www.geonorge.no) for download.
Read more: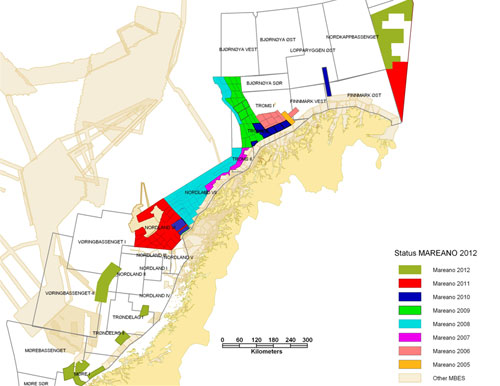 Overview of areas that have been multibeamed within the MAREANO program between 2005–2012, inclusive of areas covered by external data sources (namely, the Norwegian Army, petroleum companies, Olex AS).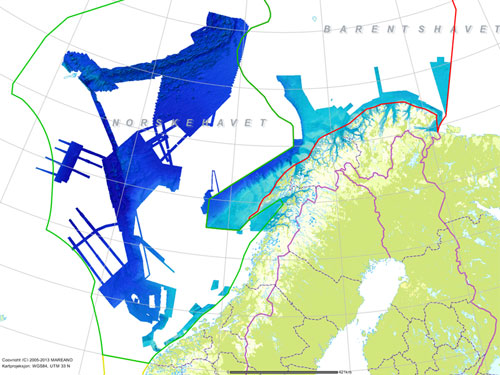 Depth maps (shaded reliefs) that have been published by MAREANO up to December 2011.
Seabed maps
Bottom maps including information about substrate and the composition of the bottom sediments are available for Nordland VI, Nordland VII, Troms II, Troms III, Eggakanten, Finnmark, and the surveyed areas of the Tromsøflaket (see figure above). The maps show that the shelf areas are dominated by sand and gravel, with muddy deposits in local depressions. The substrate on the continental slope and to the deep plains range, respectively, from sandy gravel to mud, often including slide deposits (gravel, cobbles and compacted sediments) in the deep plains. Marine landscape maps produced according to the classification system "Naturtyper i Norge", show a wide range of landscapes and land forms. The main landscape components are continental shelf plain, marine valleys, smooth continental slope, canyons, and deep sea plains.
Read more: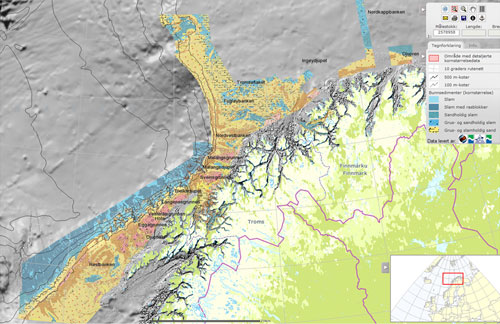 Seabed map showing bottom type/sediment type.
Read more:
Species diversity and habitats
Species diversity and habitats have been examined for Nordland VI, Troms II, Eggakanten and Tromsøflaket, and are available as maps on the MAREANO web-site. In total, 95 000 km2 have been surveyed with regard to biology, geology and chemistry, of which 80 000 km2 correspond to video material and 67 000 km2 to physically collected material.
Map with biological information are posted on the website, where fauna are specified relative to different ecological levels, i.e. fauna living within the sediments, on top of the bottom substrate, and just above the bottom sediments. Species diversity is thus specified for the different sampling gears used.
The top-ten dominant species for each sampling gear used are presented with respect to the number of individuals and biomass found. Confirmed coral observations are shown in a specific map available at the MAREANO home page, where also coral reefs found by projects other than MAREANO are shown. There is a general trend of relatively high species diversity on the shelf-areas with maximum diversity close to the coast and at the shelf edges at the top of the slope. Species diversity decreases with increasing depth.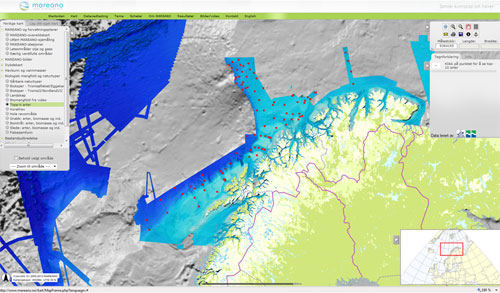 Stations where top-ten-dominant species are available as pdf-files. Data is displayed by clicking on the respective stations shown.
Read more:
Environmental chemistry/pollution
The concentration of environmentally-relevant chemicals and/or contaminants in the bottom sediments has been examined for Nordland VII, Troms II and III, Eggakanten, Tromsøflaket and off western Finnmark. The results are published on www.mareano.no, and they show that these areas are generally unpolluted, with very low concentrations of poisonous chemicals. The concentrations of PAH and certain heavy metals show, however, naturally occurring variations. Elevated levels of combustion have originated PAH and this is registered in sediments deposited in modern times, i.e. in the uppermost parts of the sediment column sampled.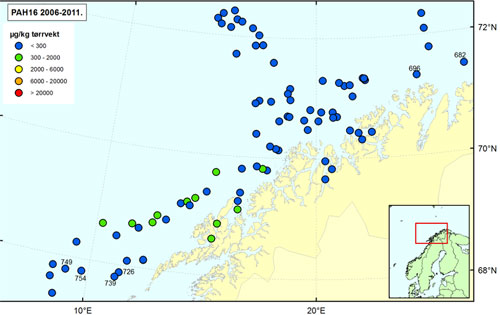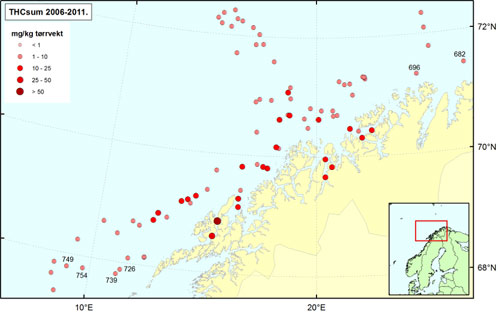 The upper panel shows summed levels of PAH 16 while the lower panel shows THC in surface sediments (top 0-1 cm). Data are from all samples collected in the period 2006–2011. Localities sampled in 2011 are labeled by their station number.
Read more: